Baseball fans get defensive over the sport they love, especially one so rooted in tradition and nostalgia. "The game is perfect the way it is!" we shout from the rafters to anyone who dares to suggest otherwise. Any proposed rule change has a nasty habit of turning the steady drone of baseball purism into a deafening cacophony.
So, as MLB and the MLBPA have discussed new rules to eliminate pitcher at-bats and adopt a universal designated hitter, let me offer a rational, reasoned take before the unending din of stupidity becomes too much to bear:
I get it.
The DH will come to the National League. Maybe not this year, maybe not even the next, but sometime soon batting lineups in the Senior Circuit will include the discordant "DH" moniker.
I get why MLB wants to institute a universal DH too. For all the incredible ways pitchers can make batters swing and miss at a pitch, they are, themselves, dreadful at hitting a baseball. Madison Bumgarner and Max Scherzer are considered to be two of the best pitcher/hitters in the league (outside of Shohei Ohtani), but both of their career batting averages are below the Mendoza Line. Just two pitchers (min 30 at-bats) had a batting average above .250 in 2018 (German Marquez and Michael Lorenzen), and just three (Marquez, Lorenzen, and Clayton Kershaw) had an on-base percentage above .300. Cumulatively, pitchers slashed .115/.144/.149 in 2018, and as this handy graph from James Smyth shows, their wRC+ compared to every other position in baseball is…not good.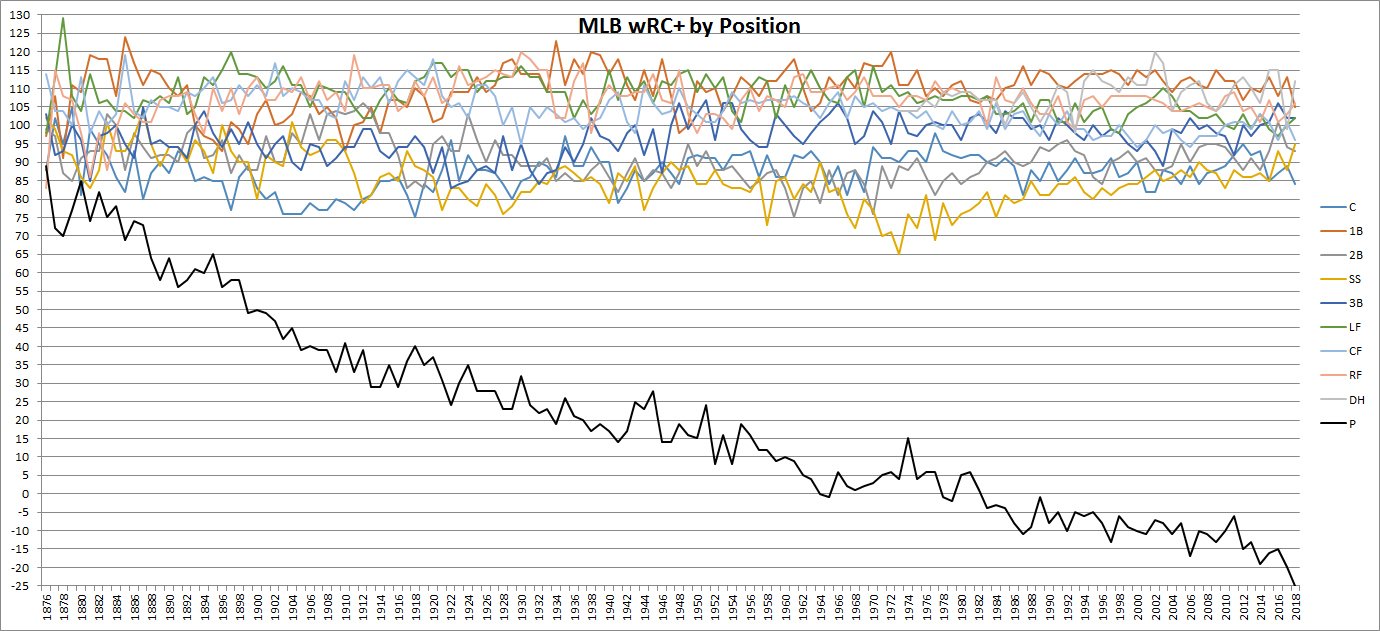 Ineffective hitting aside, this rule change–should it come to pass this year–will likely be known as the Masahiro Tanaka rule. Tanaka strained his hamstring while tagging-up on the basepaths in the Subway Series against the Mets last June, missing a month of the season. You can whine about pitchers not being "athletic enough" or some other contrived nonsense, but pitchers are specialized athletes with incredible skill on the mound; they are made to throw 100 miles-an-hour, not to leg out an infield single. Keeping pitchers out of the batting lineup decreases their chance of injury, and increases the chance that fans can see these athletes do what they do best for more of the season.
Getting rid of the DH has other benefits as well. Adding 15 roster spots in the National League for hitters who don't have to worry about defense will extend the careers of aging veterans (looking at you, Ian Desmond). This might not mean much to fans, but to members of the MLBPA who proposed the rule, especially the 100-odd free agents still looking for work, those roster spots can be the difference between another summer in the majors and an early retirement. Creating a universal DH would also level the playing field in interleague play, where inevitably one team is playing according to unfamiliar rules.
There's plenty of logical, rational reasons for Major League Baseball to adopt a universal DH.
And yet…I will miss it.
I will miss the strategy. Because the pitcher is part of the batting lineup, National League managers have a far more difficult decision when pulling their pitcher. If there's two men on with two outs in a tight game in the bottom of the 5th and the pitcher's spot is up, and your pitcher has only given up two hits on 60 pitches, what do you do? Does the situation change if your pitcher is a southpaw and your opponent has two lefties coming up to bat in the next inning? Because pitchers are both offensive and defensive in the National League, the calculus regarding when to pull them is more complicated, appealing to baseball strategy enthusiasts like myself.
Including pitchers in the batting lineup also forces GMs to construct a roster based on depth. National League play has more opportunities for pinch-hitting as pitchers reach their limits and need to be replaced in the later innings. American League managers can realistically use just nine players in their batting lineups for a full game; National League managers have to get creative with their bench. The absence of the DH allows fans to see more players on the field and rewards teams like the Los Angeles Dodgers who construct their roster with an emphasis on depth.
There is also the joy of the unexpected in a pitcher's at-bat. Yes, they are some of the worst batters in baseball, and nine times out of ten the at-bat will end in a strikeout or a groundout. But there's something special and unexpected about that one time. Fans wring their hands expecting their pitcher to strike out and bring an end to the inning, only to watch him flare one into the outfield for a base hit. There's even the possibility of the White Whale itself: the pitcher home run. The exceeding rarity of these moments makes them all the more precious. Baseball needs more of the unexpected; and what's more unexpected than a Bartolo Colon home run, or Madison Bumgarner launching two homers on Opening Day?
I get why the momentum for a universal DH is more powerful than ever. And I don't hate it. I don't think the DH is "un-American," or that it will tear apart the very fabric of America's pastime. There are even some benefits to adopting the DH in the National League.
And yet, I can't help but think we'll miss watching guys like Max Scherzer grind their cleats into the batter's box, determined to impress the fans and their opponents with something entirely unexpected.