For those of you who don't know, I live in London now! I share a flat with two other students, a Turk and an Estonian–two people who didn't grow up absorbing baseball into their veins like me.
A few days ago I was watching a broadcast that showed footage of infield practice. I tried to explain to my flatmates that they were working on fungo drills–named, of course, after the thin lightweight fungo bat. His response?
"What the f*** is a fungo?"
Which got me to thinking: what are the weirdest terms in baseball?
Can of Corn
"Sabathia with the pitch…and Bogaerts pops it up to left, this'll be a can of corn for Judge…and the inning is over."
A can of corn is a lazy fly ball where the outfielder barely has to move to record the out. But why is it a "can of corn"? Why is a can of corn so easy? I mean, getting the kernels of corn into the can seems more difficult than it looks. You've got to open the husk on the ear of corn, then find a way to cook it, then get each of the kernels off the ear bit by bit, and stuff them into the can.
Unless it's a can full of ears of corn…but that would be a pretty big can, wouldn't it?
Eephus
"Darvish delivers–oh my, was that an eephus pitch? It was, and it's strike three to Lind!"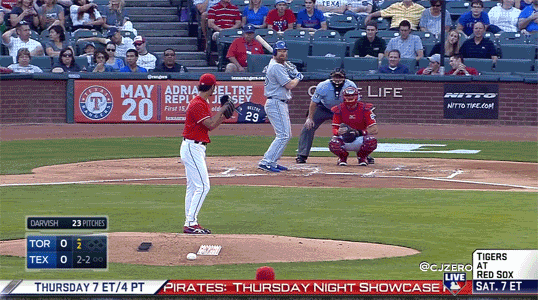 An eephus pitch is a surprisingly slow pitch that often drops into the strike zone like guano from a dive-bombing pigeon. What does eephus mean, you ask? Nothing. No, seriously. The term is said to have been coined by outfielder Maurice Van Robays, a name that sounds more like a Dutch painter than an old-school ballplayer. When asked about the term, Van Robays replied "eephus ain't nothin', and that's a nothin' pitch."
Cup of Coffee
"Jacoby Jones, up in the big leagues to start the season in Detroit. He had a cup of coffee with the team last September, but he's back full time in the outfield now."
A player who gets called up to the Show for a few games is said to have had "a cup of coffee" in the Majors because he's only in the locker room long enough to have a cup of coffee.
The question here, though: what kind of coffee? Is it just a plain filter coffee? What if someone has a Double Ristretto Venti Half-Soy Nonfat Decaf Organic Iced Vanilla Double-Shot Gingerbread Frappucino with Foam Whipped Cream Double Blended with Two Sugars in the Majors? Is that a full month of service time? Or just long enough for the Blue Jays to wean an additional year of service time from Vladdy Junior?
Dying Quail
"Chris Taylor swings at the two-two pitch…ran in on the handle of the bat, Crawford backing into the outfield, and it's gonna get down! Taylor's dying quail drives in Grandal and the Dodgers take a 2-1 lead!"
A dying quail is a bloop single that drops in beyond the infielders. Also called a "Texas Leaguer." Maybe someone from Texas went quail hunting in Globe Life Park? Are there even quails in Texas???
Rhubarb
"Cabrera is still jawing with Austin Romine behind the plate–and Romine took a shot at Cabrera! The benches clear as the teams join the scrum, and we have ourselves a rhubarb around home plate!"
Why is rhubarb used to describe a baseball brawl? This seems like a big missed opportunity. Rhubarb is a pretty benign vegetable. Rhubarb isn't the vegetable that roams the halls stealing lunch money from hapless nerds. But wasabi….wasabi is more ferocious. It tastes like a punch to the mouth. It even looks like a science experiment gone bad!
Yup. Wasabis are brawls now. It's a thing.
Yakker
"Kershaw….and a yakker falls into the strikezone, Kershaw ahead in the count 1-2."
Yup. Yakker.