A little more than a full week is in the books, and we've already had a ridiculous season. We've had three (!!!) position players pitching. We've had an Edwin Encarnacion inside-the-park-home-run. We've had plenty of #WeirdBaseball.
You ready for more? So are we. Let's crack open our "Case of the Mondays."
Oh, My-Tani!
I'm running out of Shohei Ohtani puns. And words to describe exactly what this guy is doing.
His batting stats? 19 plate appearances, 7 hits, and 3 home runs. Slash line: .389/.421/.889. He has more home runs than Kris Bryant, Carlos Correa, Mookie Betts, and Cody Bellinger.
His pitching stats? 2 starts, 13 innings pitched, 3 earned runs, and 18 strikeouts. His 12.46 strikeouts-per-nine is better than Chris Sale, Justin Verlander, and Clayton Kershaw. He took a perfect game into the seventh inning–in his second career start!
Rarely does anything live up to the hype. Shohei Ohtani is not only living up to expectations; he is surpassing them.
Ohtani has long been dubbed "the Japanese Babe Ruth," but that comparison doesn't actually capture Ohtani. Ruth really had two careers; he started as a pitcher who had an above-average bat (think a Madison Bumgarner, but a much better hitter). He transitioned into one of the greatest hitters in the history of the game. He was great at both, but never at the same time.
Ohtani's playing both ways. And he's dominating both. I was a skeptic. No more–I'm in on the hype.
2. "I got it! I got it! I…don't got it."
It was a classic pitcher's duel Saturday night in Minute Maid Park as the Padres took on the defending champions. Gerrit Cole went 7 innings while striking out 11 for the Astros; Bryan Mitchell threw 5 2/3 solid innings for the Padres, and the bullpen kept it scoreless.
With Derek Fisher standing on second and two men out in the bottom of the tenth, Alex Bregman came to the plate with a chance to walk it off. After working the count to 3-2, Bregman took a hack at a fastball from Phil Maton. And, well (skip to 15:30 in video):
Bregman and the Astros walked off on an infield pop-up. When it's going good, it's going good.
3. Beantown Breaking Records
In 117 seasons of Boston Red Sox baseball (7 of them as the Boston Americans), the team had never started a season 8-1. Until now.
How have they done it? David Price hasn't allowed a run. Chris Sale has only given up one in eleven innings. Xander Bogaerts (9 extra-base hits and 9 RBIs) and Mookie Betts (a .475 OBP) have driven the offense with a more aggressive approach at the plate. And Rafael Devers has continued to build on his strong rookie campaign.
I know, I know — they've only played the Tampa Bay Rays and the Miami Marlins. But wins are still wins, and if they can get their new slugger JD Martinez up to speed, Boston could be the team to beat in the AL East.
4. Welcome to the Ump Show, 1.0
Anthony Rendon got ejected for this.
Imagine what would have happened if he bunted against the shift in the ninth inning.
5. Welcome to the Ump Show, 2.0
Things got a bit feisty in the rubber match between the Cardinals and Diamondbacks on Sunday.
In the top of the second, AJ Pollock took a fastball low for what he thought was ball four. Home plate ump Tim Timmons begged to differ, and called Pollock out on strikes.
Pollock grumbled, but walked back to the dugout. D-Backs manager Torey Lovullo chose a different option, and stormed out to have a word with Timmons. By default, that led to his ejection. Lovullo, though, had to have the last word. Apparently, that word was directed at Cardinals catcher Yadier Molina, and it wasn't nice.
What did Lovullo say? Was he arguing about Molina's pitch-framing? Complaining about the strike zone? Or did he say that unholiest of baseball phrases, the "triple-dog-dare-you" of the baseball diamond?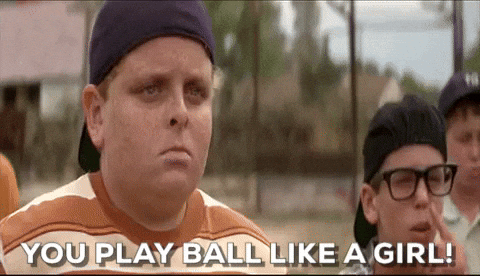 6. Just Take the "L" and Move On
The Phillies beat the Marlins 20-1 on Saturday. The Marlins scored the first run. The Phillies had 17 after the fourth inning. Marlins' backup catcher Bryan Holaday pitched the 8th inning (and even registered a strikeout). It was about as ugly as a baseball game gets.
Running a losing team's Twitter account is a tough job. You're expected to stay optimistic, even in the face of Twitter trolls who smell blood in the water. However, sometimes the best thing to do after your team gets obliterated is to just go ¯\_(ツ)_/¯ and move on.
Looks like the Marlins social media team have been drinking the Kool-Aid.
The Next Round
The rivalry renews: the Red Sox host the Yankees in their first meeting of the season, with a host of new faces on both sides including Giancarlo Stanton, JD Martinez, Aaron Boone, and Alex Cora. Next weekend Ohtani takes the bump again against one of the weakest offenses in baseball in Kansas City. He just took a perfecto into the 7th; what does he have for an encore?