Dear Santa,
How's it going, old man? Listen, I know you must get a ton of letters every year. But I'm begging you, please–read this one. Because I'm not just writing on behalf of myself. I'm writing on behalf of every single baseball fan in the world. Listening? Good.
I know it must be tricky to play baseball up where you're at. The ball probably blends in with the snow, and I can't imagine someone running like Bryon Buxton in a centerfield covered with ice. But you're a baseball fan, aren't you Santa? I bet you and the elves have a really good 9-a-side league in the summer. I'm guessing given your size you're probably the DH (no offense).
Anyway, given that you're clearly a baseball fan you know how important the fans are to the game. They spend their summers with the team, going to the ballparks or reading the box scores every morning. When their team struggles, they struggle (hello, Marlins Man). When the team triumphs, the whole city wins. You may come from the Christian tradition, Santa, but I think we all belong to the Church of Baseball.
So, Santa: from baseball fans worldwide, here is our wishlist for the upcoming year in baseball.
Encase Mike Trout in an impenetrable bubble so he can never get hurt again.
Mike Trout is the greatest baseball player of his generation, and has a chance to be one of the greatest players to ever play the game. He only played 114 games last season due to a thumb injury…and still finished third in the AL in fWAR. We all want to watch greatness. Please, let Mike Trout play a full, uninjured season.
Give the Nationals a first-round bye so they don't have to play in the NLDS.
Four playoff appearances in six years is a pretty darn good track record. Unless you're the Washington Nationals, who seem to always fall at the last hurdle. This year it was a heartbreaking Game 5 loss to the Cubs, 9-8. 2016? A heartbreaking Game 5 loss to the Dodgers, 4-3. But 2012 may still be the worst, a 9-7 loss to the Cardinals in Game 5.
The solution is simple: just don't let them play in the Divisional Series. Just let them skip ahead to the NLCS. I know that sounds a bit unfair, but you're Santa. You can make it happen.
More Crazy MiLB Promotional Nights!
Last year brought us Alternative Facts Night, a Celebration of George Costanza, and a host of eclipse-themed festivities. What will 2018 bring? All I can say is I wouldn't be opposed to more Bark in the Park nights. Such good doggos.
Demote the entire southern half of Florida to the Minor Leagues so the Marlins and the Rays might actually win something.
Derek Jeter's firesale is nearly complete, as Dee Gordon, Giancarlo Stanton, and Marcell Ozuna have made for the exits, with Christian Yelich and JT Realmuto not far behind. That would leave Justin Bour as their top player…but hey, at least they cut payroll, right?
On the other side of the state, the Tampa Bay Ray shipped their best player in franchise history off to the Giants. With Evan Longoria gone, Rays fans are hoping that Chris Archer can pitch every game. And that he learns how to bat .290 with 30 homers.
So here's my idea: what if we let those two teams form their own, mini-league? Winner gets the Marlins home run statue; loser has to play all of next season in Tropicana Field. Hey, at least they could be competitive.
Give Miguel Cabrera an elixir of life to make him play like 2012 Miggy.
Ah, remember 2012? Obama was still president. The world was going to end in December of that year. And Miguel Cabrera was the first Triple Crown winner since Carl Yastrzemski completed the feat in 1967.
But Miggy doesn't look like Miggy anymore. In 2012, he slashed .330/.393/.606 with 44 homers and 139 RBI (and his 2013 was even better). Last year, he dropped to .249/.329/.399 with 16 homers and 60 RBI. Yowza.
Look, I know the Tigers aren't going anywhere but down this season. And the season after that, and after that, and after that…. The point is, we need something worth watching in Detroit. So please, Santa: give us more Miggy. You scratch his beard, he'll scratch yours.
Please let Shohei Ohtani be the real deal.
The offseason courtship of "The Japanese Babe Ruth" was like a combination of the Bachelor and the race for Amazon's second headquarters. In the end, Ohtani chose to join Mike Trout and ply his trade in Anaheim, where he expects to get some 200 at-bats during the season, as well as a full pitching schedule.
But there are question marks. Ohtani apparently is dealing with an injured ligament in his pitching elbow, which could eventually lead to Tommy John surgery if not taken care of. He is coming off of an October surgery to fix the injury to his ankle. On top of the injury concerns, there's the question of transition. While his numbers in the Japanese leagues are impressive, a strikeout rate around 30% leaves cause for concern.
Ohtani has the chance to be a generational, transcendent talent, one who can forever change the nature of the game. Please, let him be the real deal.
More baseball Twitter.
2017 gave us beautiful moments on the field, and in cyberspace. MLB teams came together to sing "Total Eclipse of the Heart." The #WWWWWWWWWWWWWWWWWWWWWWWIndians won so many consecutive games that they ran out of room on their home page. Baseball Twitter came together to send gift packages to Loren Jade Smith, a 9-year old who lost his collection of MLB memorabilia in the wildfires of California.
More of this in 2018 please!
Let the other AL East teams pool resources to try and beat the Yankees.
Brian Cashman has had a busy offseason. After not renewing Joe Girardi's contract, he went out and hired Aaron Boone to manage the Yankees. He resigned CC Sabathia, and has been rumored to be interested in Michael Fulmer or Patrick Corbin. Most of all, he made the blockbuster deal of the offseason by getting Giancarlo Stanton for scraps.
In response, the other AL East teams have been making some (not so) serious moves. The Red Sox resigned Mitch Moreland. The Rays traded away Evan Longoria. The Orioles lost closer Zach Britton to a torn Achilles. And the Blue Jays are probably still snowed in, and haven't been able to do anything.
We baseball fans want competitive balance. The New York Yankees against the East Coast Oriole-Blu-Ray-Sox should give us some interesting matchups.
Give Bartolo a contract. Preferably in the National League.
He can ride a scooter.
He can feed pigeons.
He can hit big-mack-daddy-dingers.
He can make effortless behind-the-back flips to first base.
All while carrying the weight of the world in his tummy.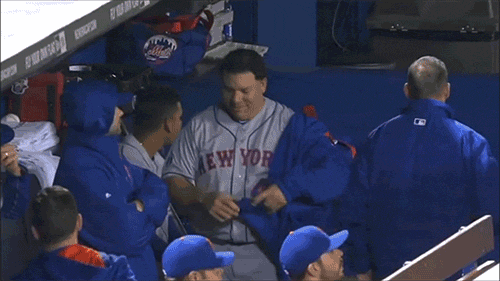 Someone sign this man. Baseball always needs more Bartolo.
More summer nights like this:
Anyway Santa, I know that's a lot. But baseball fans are counting on you.