Before we crash on the couch to watch football and gorge ourselves on ludicrous amounts of delicious food, Brett and I wanted to take a moment to wish you all a happy Thanksgiving, and to share with you some of the things we're thankful for this holiday season.
Brett: I'm thankful for Francisco Lindor and the positive impact that he has made on baseball. The kid is only 24 years old and has reminded us all that this is still a kid's game. He is quickly becoming the best shortstop in baseball and he's doing it with a smile on his face.
He has also brought us some of the most memorable postseason moments in recent history:
Scott: I'm thankful that we've been blessed with twenty years of Bartolo Colon in Major League Baseball. The big guy has played for ten different teams (including the now-defunct Montreal Expos), and is only one of three active pitchers to record a win against all thirty teams.
Also, I'm thankful that this photo exists.
Brett: I am thankful for this year's Houston Astros. Not only did they inspire a community devastated by a hurricane to persevere, but they also showed us that you can break curses after years of being bounced out of the playoffs. The 'Stros also knocked out the Yankees, so I am pretty thankful for that.
Scott: I'm thankful for the Bartolo Colon highlight reel. Not only is he a great pitcher; he plays defense!
He hits big-daddy home runs!
He is: the Sexiest At-Bat in Baseball.
Brett: I am thankful for Doc Halladay. We were blessed to have such a great talent in the game of baseball when we did. Even though we lost such a great human being way too soon, we were lucky to have had not just a great baseball player, but a better man. We should reflect on the great life that Doc had instead of his tragic death. Thank you, Doc, for what you gave to the game of baseball.
Scott: I'm thankful for the nostalgia of baseball, the fact that we as fans get to share in the joy of spending the long summer days and the crisp fall nights at the ballpark talking with friends, drinking a beer, and watching the greatest game ever played.
LOL JK I'm thankful for this GIF of Bartolo looking like all of us after our Thanksgiving turkey.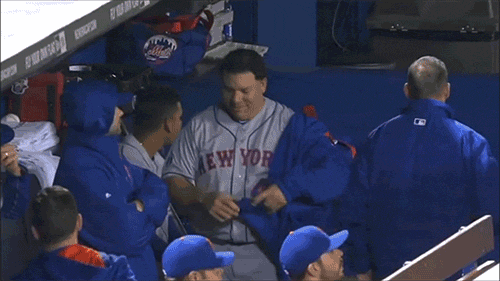 From Brett and I here at Standing Room Only, we would like to wish everyone a happy and safe Thanksgiving with friends and family.