Baseball's current Home Run King, the 325-million-dollar man, is a Miami Marlin. But for how long? With Derek Jeter now at the helm, big changes are expected on South Beach, including a plan to cut the team's payroll to $90 million. Rumors are already flying about Giancarlo Stanton getting traded to everyone from the St. Louis Cardinals to the Boston Red Sox.
Any team would be happy to have Giancarlo Stanton. The guy hit 59 home runs last season and is a finalist for the NL MVP; of course you want him. But if he doesn't come to your team (and I promise you, he won't), where should he end up? Here are the best options.
New York Yankees
I know, I know, you're sick of the "27 rings baby!" line. We all are sick of it (and the sass from the Yankees' Twitter feed isn't helping.) But just listen to the sound of this:
Aaron Judge at the plate. Gary Sanchez on deck. Giancarlo Stanton in the hole.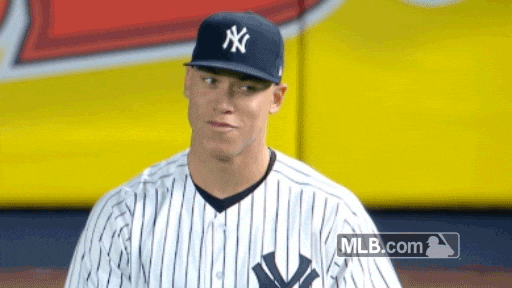 Remember when everyone couldn't wait to see the home run derby between Judge and Stanton? It would be like that…162 games a season.
Yes, Yankees fans would be insufferable. But the dingers, man, the dingers!
San Diego Padres
Wait, what? Yep. The Padres. The lowly, unwatchable, utterly forgettable Padres…with Giancarlo Stanton.
One, we'd get to see him play divisional games against Clayton Kershaw, Zack Greinke, and Madison Bumgarner. Maybe Mad-Bum would one-up him in the dinger department.
Two, remember when he played in the WBC at Petco Park? This happened:
I want him there. Padres fans want him there. The poor defenseless walls at Petco Park? Maybe not so much.
New York Mets
Would there be a funner outfield in baseball than Yoenis Cespedes, Michael Conforto, and Giancarlo Stanton? No. Sorry Boston.
Plus, I love the narratives that could happen here. The Mets sign Stanton — yes, they're World Series contenders! Whoops, now their entire pitching staff is on IR–again–and they get so desperate they convert Cespedes into an outfielder/relief arm. Yoenis and Stanton both have 60+ homer seasons, and the Mets still don't win 70 games.
Okay, maybe they don't get Stanton. But that Cespedes reliever idea…
Colorado Rockies
Giancarlo Stanton. Coors Field. Need I say more?