As you may have noticed, due to a confluence of heavy workloads, trying to finding a job, and the fast-approaching commencement of the academic year, the pace of articles on this blog has slowed to match the dog-days of summer. I've even gone a full week without watching any baseball games. And upon the conclusion of this harrowing scientific experiment, I am left with one overwhelming conclusion:
Life without baseball sucks.
No deft double-plays? No sweeping curveballs? No wall-shattering catches in the outfield? (I see you, Kevin Pillar.) The baseball withdrawal hit hard. Thank God I'm back on the special sauce of America's Pastime.
And that's good news for you as well, dear reader. You get to enjoy these musings on everything in the world of baseball. Or maybe suffer through them. I don't know your life. Anyway, let's get on with it!
The Story You're Already Following, And Should Be: The Los Angeles Dodgers
29. That's the magic number for the Dodgers, who are looking to overtake the 2001 Seattle Mariners for the best record in baseball history in a 162-game season (the 1906 Chicago Cubs also won 116 games, but achieved the feat in just 152 games). Given that the Dodgers gone 27-6 since the All-Star Break, a 29-10 record over the last month-and-change of the season is not out of the realm of possibility.
They unquestionably have the most talented roster in all of baseball. Clayton Kershaw and deadline-acquisition Yu Darvish are the best one-two punch in the game, and the bevy of arms behind them give Los Angeles its deepest rotation in years. Beyond the rotation lies a fearsome bullpen that leads the majors in WHIP (1.09) and is second in ERA (3.02).
The offense has fallen off slightly for the Dodgers; their .339 OBP ranks ninth since the All-Star Break, and they've scored 164 runs — good for only 14th among all big-league clubs. They may not put up crooked numbers, but they are consistent; until they were stymied by Justin Verlander on Sunday, the Dodgers had scored two runs or more in every game since July 18 — a stretch of 27 games.
Can the Dodgers chase, and ultimately catch, history? Despite how good the team is, the smart money says no. Seven of their last twelve series come against teams in the NL playoff race, so there won't be too many easy wins. Injuries may scupper the chase; Clayton Kershaw has been out since July 23 with a back issue, though he pitched 4 simulated innings yesterday. Yu Darvish just landed on the DL as well. Other starters have been carrying the load, but for how much longer? Alex Wood's velocity has ticked down since the All-Star Break, and Kenta Maeda has struggled with the long ball in his last two starts.
Watching history happen before your eyes is always a good story. Keep your eyes on the Dodgers as the season wraps up; they may be going into the playoffs as prohibitive favorites.
The Story You're Following, But Shouldn't Be: Giancarlo Stanton and the "Real" Home Run Record
Talk about flipping the switch after the All-Star Break. Giancarlo has crushed 19 homers in the 34 games since the Midsummer Classic, giving him an MLB-leading 45 on the season. With his torrid pace, it's only natural that analysts and reporters started talking about how high up the single-season home run record list he could climb. He can't catch Bonds' record of 73 from 2001, and has no real chance of matching Mark McGwire on 70 or Sammy Sosa on 66. The number I've heard most often referenced is Roger Maris' mark of 61: the "real" home run record.
Clearly the specter of the steroids era continues to fall across Major League Baseball. And that's a damn shame.
Bonds, McGwire, and Sosa almost certainly were using steroids during their record-breaking seasons. And yes, there should be an asterisk next to them in the record books. But they still happened. Bonds still jacked 73 homers in 2001, steroids or not. We can't pretend that those seasons didn't happen because we didn't like the circumstances in which they occurred.
Worst of all is the suspicion surrounding great performances. I've heard numerous sports talk radio hosts use the caveat "if he's clean," referring to Stanton. What happened to "innocent until proven guilty?" Must we look at every power-surge in baseball and wonder whether it leads back to PEDs? We were taken for suckers once, and now we're too worried about being conned again.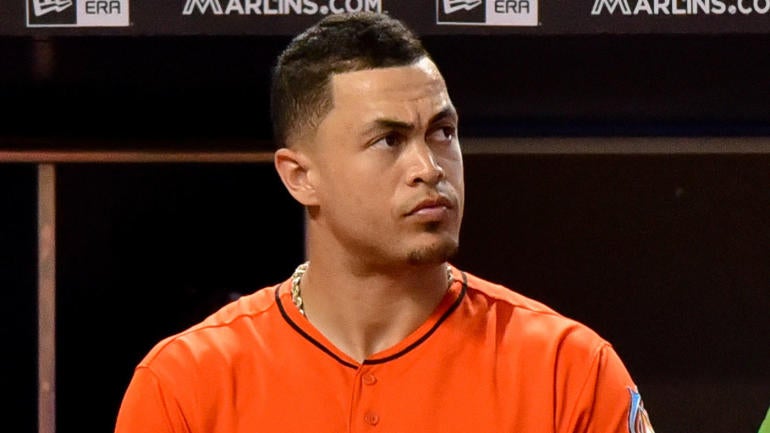 Watch Stanton crush dingers over that gaudy, tacky home run statue. See how high he climbs up the leaderboard. But don't sully his performance–or the admittedly-chequered past of the game itself–by saying he's chasing the "real home run record" or by suggesting that he's juicing. The game of baseball, and Giancarlo Stanton, deserve so much better than that.
The Story You Should Be Following, But Aren't: The Moose is Loose
While Aaron Judge hogged all the early-season power headlines, and Giancarlo Stanton has dominated the second half, you may have missed what Mike Moustakas is doing in Kansas City. The Royals' single-season record for most home runs is 36, set by Steve Balboni in 1985. Mike Moustakas currently has 35…and has over 40 games left to break that record.
I know you're going to come at me with all the caveats now. Yes, Balboni's mark of 36 homers isn't exactly an other-worldly number. Yes, Moustakas has struggled in other parts of his game (his OPS is a still-respectable, but not outstanding .885, and his DRS and UZR are both below zero). And sure, Kansas City is currently on the outside looking in on the AL Wildcard race.
Moustakas's pursuit of 37 homers may not be the flashiest news story in baseball this year. But rewarding a career year with the statement "most home runs in a season EVER by someone in a Royals uniform" is still a heck of a season. It's well worth a watch.
Quick Hits
Judge in Contempt: How the mighty have fallen. Since the All-Star Break, Aaron Judge is batting just .169, and has posted a whopping 58 strikeouts. The seven home runs are nice, but striking out in 37 straight games-and-counting, a new MLB record, is not so nice. Savvier analysts than I have written excellent pieces analyzing what's behind Judge's second-half regression at Fangraphs, ESPN, and Sports Illustrated. My question: what does this mean for Judge's supposed-coronation as the next "face of baseball"? This is why, as I argued earlier this year, baseball doesn't need a single "face." With the exception of the human anomaly that is Mike Trout, every superstar player of this generation has gone through long stretches of sub-par performance. Judge is no different, though perhaps his peaks and valleys are more mountainous than others.
The Fragile Emotional State of Umpires: After Ian Kinsler sounded off on umpire Angel Hernandez, saying he needed to "re-evaluate his career choice" and that he was "messing with baseball games," the umpires of Major League Baseball banded together to protest…what exactly? Players being mean to them? Umpires, or any rules official in any sport, are going to be the least-liked people on the field. Players will complain about every call that goes against them. A half-hearted show of protest after a player "publicly and harshly impugned the character and integrity" of an umpire comes off as childish and unnecessary. Kinsler's comments deserved a fine, but if umpires take umbrage at every slight against their character, they're going to be wearing a lot of wristbands.
Slip-Sliding Away: When Bryce Harper went down with what looked to be a serious knee injury after slipping on first base, calls went out to change the nature of bases to make them safer. That seems like an overreaction to a simpler problem. Sure, you could spend millions of dollars redesigning bases to ensure no one ever trips on them again, and then spend millions more distributing those new designs to lower-level professional leagues, colleges, and then little-league parks. Or, Major League Baseball could take a smarter, cheaper course of action and analyze rain delays. Bryce Harper stumbled on a play in the first inning that happened past 10 o'clock. Why was the game even being played? Why weren't the bases dried off before they started play? If we want to criticize something here, criticize the fact that the Nationals and Giants were even playing baseball at that point in the first place.
The Real Spirit of the Game: I used to think the Little League World Series was a bit silly. Why is ESPN showing a bunch of kids on TV, when they could be showing games we actually care about? Then I started watching it. The passion and emotion those kids play with outpaces anything Major League players bring to the field–and these kids may be eleven and twelve years old, but they've got serious game. The Little League Classic between the Cardinals and Pirates on Sunday night was a resounding success, bringing out the nostalgia from the big-leaguers who got to connect with the next generation of baseball fans and players. You want raw emotion? Watch this clip from yesterday's game between the Dominican Republic and Venezuela:
This is what baseball is all about. And this is why I will be sitting on my couch watching the Little League World Series for the next week.