For those of you who haven't been following the Milwaukee Brewers closely (and I honestly can't blame you for that), they haven't been that bad through April. They're playing .500 baseball, and sit only one games back from the division-leading Chicago Cubs. They also lead the majors in home runs and slugging percentage. A big part of that power surge has been newly-acquired first baseman Eric Thames. Allow me to introduce you:
Pretty good for a guy who wasn't even in Major League Baseball last season. From 2014 to 2016, Thames played for the NC Dinos of the KBO (Korean Baseball Organization) League, where he won the MVP award in 2015. In 2016, Thames had 40 home runs to go along with a .321 batting average and 121 RBIs. Simply put, the guy can rake.
When the Brewers signed Thames back in November, the move was met with some skepticism from baseball writers. Sure, Thames was a slugger in the hitter-friendly KBO, but would his power translate to the Show? One article called him a "failed prospect" before praising the deal due to its financial advantages, and another said his success in the major leagues ""is anyone's guess."
In his short time back in the major leagues Thames has proven that his power is no joke, pacing the Brewers offense with 11 home runs and a batting average above .340. He now holds the Brewers franchise record for the most consecutive games with a home run (five). For you fantasy baseball players that laughed at whoever drafted "that guy from Korea," the joke's on you.
Eric Thames's triumphant return (at least to this point in the season) means more for baseball than just more beautiful dingers. It's a sign that players in the Asian leagues are getting closer and closer to big-league quality. And that means the already-high expectations on Japanese superstar Shohei Otani are about to go through the roof.
For those of you not familiar with the player Sports Illustrated recently called "Japan's Babe Ruth," feast your eyes:
Last season with the Nippon Ham Fighters of the Japanese League, Otani hit 22 bombs while batting .322. Though he suffered a hamstring injury early in the 2017 season, he has already hit two dingers in only eight games.
Oh, did I mention he's a pitcher?
In 2016, he registered a 1.86 ERA over 140 innings while compiling a 10-4 record. He has impressive swing-and-miss stuff, posting an 11.9 K/9 ratio. His fastball routinely reaches triple-figures, and he holds the record for the fastest pitch ever thrown in the KBO.
Will Otani pitch and hit when he makes the transition to MLB? That question remains to be seen. What is already apparent is that major league teams are circling like vultures over the tantalizing prospect of adding Otani to their roster.
Players making the move across the Pacific have always seen mixed results. Yu Darvish is a superstar for the Rangers, while Byung Ho Park has struggled upon his move from Korea, just to name two examples on opposite ends of the spectrum. No matter how talented a player seems in one of the top Asian baseball leagues, they may struggle to adjust to playing against the best-of-the-best in America.
Eric Thames' early success not only bolsters his own reputation, but that of the Korean Baseball Organization and the Japanese baseball leagues. His power surge to start the season–admittedly a small sample size–demonstrates that the talent he had in Korea does translate to the major leagues. Those teams jealously eyeing the Brewers for their shrewd offseason acquisition will surely be taking a look at Otani when he chooses to make the move to America.
Oh, and if moonshots aren't enough for you, here's Eric Thames describing how he likes playing in Milwaukee:
"I came to Milwaukee before I signed, checked it out, and after an hour I knew it was where I wanted to be. I love the Midwest. I love the hospitality of the people. And Milwaukee has great beer. I love beer."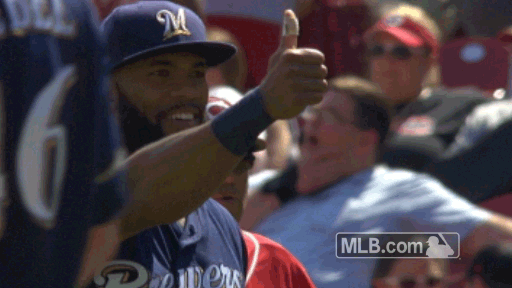 Never change, Eric Thames.